Your love is matched by our care
The SARquavitae team features over 10,150 highly-qualified, passionate and committed professionals at your service. We are specialists in the provision of medical and social services both in healthcare centres and in domiciliary care, providing solutions tailored to meet each individual's needs.
---
SARquavitae People
Watch this video to find out what our residents and their families think of SARquavitae
&nbspMy mother's Alzheimer's was getting worse and it was becoming impossible to care for her at home. We had adapted our home and looked after her as well as we could, but we realised that it was not enough. It was no life for her or for us. At the home they know what they are doing, and have trained professionals to look after her. The therapy has put a smile back on her face, and has changed everyone's lives for the better.

&nbspI cannot describe how happy I was to be able to walk again after therapy following breaking my thigh bone. The SARquavitae team has not just done a great job with my rehabilitation, but their smiles and kindness have also strengthened my faith in the future.

&nbspMy father lived on his own and had all the usual problems associated with being a widower of 85: struggling to take the right medication, not looking after his diet and feeling depressed and lonely. We decided to suggest to him to spend a period in a home. We had not considered it and neither had he, but some close family friends recommended a SARquavitae home where their father lived. It was a real breakthrough. We are delighted at the improvement to his quality of life. He looks like a different man, and this has also taken a load off our shoulders.

&nbspMy mother was struggling with living at home on her own and there was nobody to attend to her in case of emergency. Taking out SARquavitae's telecare service has restored my peace of mind, in the knowledge that she has someone on hand to help her when needed.

&nbspAnytime anyone mentioned a nursing home to me, I thought they would never be able to care for my mother like we do. Her stay in the home over August however was ideal, and was some of the best holidays for all of us in a long time. The care and level of attention was second to none, and knowing that she was safe and looked-after – probably better than with us – was priceless.

&nbspThe trust provided by a unit specialised in advanced illnesses is very comforting, as is the feeling of support offered by a professional team attending to every last detail during such a difficult time. The reassurance of knowing that they are providing my father with the best of care has given us invaluable peace of mind.

&nbspI found myself in a situation that I just could not deal with. I was living with my mother who had been diagnosed with a schizoid personality disorder and generalised anxiety, and it was becoming very difficult to cope with as she had begun to cry out and threaten me. They are real professionals at the home, and have the right people to look after her. The therapies have put a smile back on her face, and changed all of our lives for the better.

&nbspIt was exhausting trying to meet my mother's every need. During the day we were able to go to work knowing that she was well cared for, but the nights were a different story. She would constantly need our help to get around and could not sleep properly. When we found out about this new night centre service, we knew it was just what we needed both for my mother's sake and ours. Now she has the professional care she needs at night.

&nbspMy home was huge and was too big for me now that I was on my own. It was becoming very difficult to cope with, because I love being with people, socialising and coming and going when I want. The idea of ADOREA really appealed to me. It does things such as domestic chores, meals and laundry for me, making life much easier. In ADOREA I also have a completely furnished apartment and am able to take out extra services. They also organise activities that encourage socialising, allowing me to meet new people. And all of this with total freedom and independence, meaning that you can do what you want, when you want. I think it has been a great decision, and I am able to enjoy my life without worrying about anything.
---
Busca tu centro SARquavitae
Nursing homes and healthcare centres
Day centres and hospitals
Retirement housing
Domiciliary assistance services
Disability care services
Disability care day centres
Doctors and nurses on call
Telecare
---
SARquavitae Videos
Leisure in residences for elderly SARquavitae
Thomas Mancilla, a psychologist at the nursing home SARquavitae Fuentesol (Alhaurín de la Torre), and Angela Ortega, instructor of leisure and free time of the retirement home SARquavitae Santa Justa (Sevilla), describe the work done by the centers for promote active aging, encouraging older people to move and interact; proposing activities that are to their liking and they get involve as many family members as possible. In the words of the instructor, "we work every day for seniors never stop smiling."
The SARquavitae schools produce monthly entertainment program that includes both the physical needs of the elderly as those related to their emotional and psychological well-being. In these programs, involving both professionals emotional environment of elders as the social environment of the municipality entities collaborating with the different municipalities and interrelating with other nearby groups.
Nutrition and restoration SARquavitae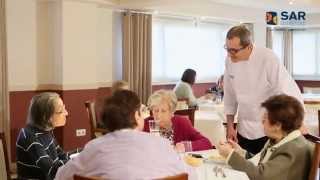 ---
The Board of SARquavitae, the leader in health and social services, has appointed José Luis Roselló as the new CEO of the company, Antoni Soler as the new Chief Finance, Human Resources and Legal Officer and Andreu Huguet as the new Chief Business Development and Support Officer in a clear commitment to its growth strategy in the new economic and social environment.
José Luis Roselló, who holds a Degree in Business Administration and Management and an MBA from ESADE, joined SARquavitae in 2007. Until now, he has held the position of Deputy Director General and Director of Operations.
Antoni Soler, who holds a Degree in Business Studies and an MBA from ESADE and a Degree in Business Administration and Management from UPC, joined SARquavitae in 1997. Until now, he has held the position of Deputy Director General of Finance and Legal Affairs.
Andreu Huguet, who holds a Degree in Business Administration and Management from UPF and an MBA from ESADE, joined SARquavitae in 2006. Until now, he has held the position of Deputy Director General of Support Areas.
The other members of the management team continue in their current positions.
These appointments complete the process of new management appointments which began last December, taking a step forward in the growth strategy of the company within the current market context and consolidating SARquavitae as a leader in the social and health sector in Spain.
José Luis Roselló conveys his confidence in the company's opportunities. He affirms "we will continue with our strategic growth plan, and our main objective is to maintain the quality of services while continuing to lead the professionalisation of the sector of care services for older people and long-term care." The new CEO also stated his firm commitment to the company, its staff and its customers.